JENNIE FINCH IS RETIRING
Associated Press
OKLAHOMA CITY — Olympic gold medalist Jennie Finch plans to retire next month and bring an end to a 10-year career in which she helped the sport blossom in the United States.
The dominating pitcher announced Tuesday that she will play her final games with the U.S. national team this week at the World Cup of Softball in Oklahoma City. She'll then finish the rest of the National Pro Fastpitch season with the Chicago Bandits before calling it quits at the age of 29 to focus on her family.
[+] Enlarge
Al Bello/Getty ImagesJenny Finch won two Olympic medals and seven world championships with the U.S. national team.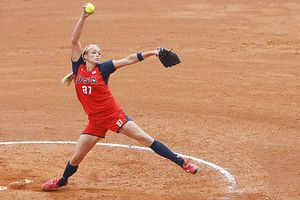 The 6-foot-2 Finch was a standout at Arizona before becoming an icon with the U.S. team, going 32-0 her junior year and putting together 60 consecutive wins — both NCAA records. She won gold at the 2004 Olympics in Athens and silver four years later in Beijing.
Earlier this month, she helped the U.S. win its seventh straight world championship.
"This whole career has been way more than I ever even imagined or dreamed," Finch said in an interview with The Associated Press. "The opportunities that I'd be able to enjoy and appreciate and be a part of, it's been incredible."
Finch was much more than a pretty face as she took over Lisa Fernandez's place as the sport's most recognized player during a period when the following for the Women's College World Series and the national team experienced marked growth. Her 60-game run stretched over nearly two years and included the 2001 WCWS title.
Her dominance carried over to the national team, where she combined with the likes of Fernandez and Cat Osterman to make up the world's best pitching rotation through the early part of the decade.
Coupled with her softball skills, Finch's beauty and charm landed her a place in pop culture. She struck out some of the big leagues' best hitters in appearances on "This Week in Baseball," competed on "Celebrity Apprentice" and made the rounds on late-night talk shows.
Finch, who will turn 30 in September, said it's time to turn her focus to her family. She and pitcher Casey Daigle, who has split this season between the Houston Astros and Triple-A Round Rock, have a 4-year-old son, Ace, and hope to have more children.
The couple have spent about two weeks together at their Arizona home over the past year, Finch said, and the world championships in Venezuela meant 14 days away from her family.
"I just feel like it gets harder and harder every year with Ace getting older and time away from my husband and even family events such as birthdays and friends' weddings and things that I've always just missed out on because of softball," Finch said.
"It's getting a little bit harder to miss those moments in life."
While many of her veteran teammates walked away from the game after the U.S. lost to Japan in the gold-medal game in 2008, Finch stuck around and helped with an unsuccessful bid to get softball added back into the Olympics after it was dropped from the 2012 and 2016 Games.
As one of the few veterans left, she became a team leader as the Americans re-established themselves as the No. 1 team in the world.
"She's such a great ambassador for that," U.S. coach Jay Miller said. "That's going to be the most difficult thing to replace."
Finch said she plans to stay involved in softball, running her own camps and perhaps serving as an ambassador if asked to do so. She even suggested that eliminating travel and training will give her more time to help spread the sport. She didn't rule out a role in team ownership.
"I hope to stay involved," she said. "It's been such a big part of my life and I can't imagine my life without it."
Even now, Finch gets a rush out of putting on the red, white and blue and hearing a home crowd chant "U-S-A" — something she'll experience a few final times at the World Cup beginning Thursday night.
"Right now in my career, it's like I'm having more fun than I've ever had, so it's kind of like, 'Man, I can't stop now,' " she said. "I'm playing first base and pitching and hitting. I feel like I'm almost better than I've ever been. It's like, 'You're going to walk away like this?' "
The Bandits' last regular-season game is scheduled for Aug. 22 at home in Elgin, Ill.
USA SOFTBALL PRESS RELEASE
Posted: 7/20/2010

OKLAHOMA CITY – Arguably the most recognized softball player in the World, Jennie Finch (La Mirada, Calif.) will hang up her Red, White and Blue uniform as she announced her retirement from USA Softball effective after the 2010 KFC World Cup of Softball presented by Six Flags, announced today by the Amateur Softball Association (ASA) of America. During her 10 year career with USA Softball, Finch has emerged as an icon bringing recognition to the sport on levels transcending the diamond.
"I feel an outpouring of gratitude for so much and for so many that it's really hard to put into words. Playing USA Softball has been more to me than I ever imagined possible. I could never have dreamed what an amazing ride this has been," said Finch. "I have been honored with so many amazing opportunities and I have to credit so many people; from the women before me to everyone at USA Softball to the fans and everyone involved in the sport who have made this such a special part of my life."
Finch entered the USA Softball National Team program in 2001 at the Pan American Qualifier. She has been on the National Team every year since then and in 2004 earned an Olympic Gold Medal in Athens and in 2008 an Olympic Silver Medal in Beijing.
"To be a little girl, wearing USA stuff, watching the Olympics and then to grow older and to compete alongside the women you have admired is unbelievable. It's so surreal that I was able to play with my role models in Leah (O'Brien-Amico), Lisa (Fernandez) and Laura (Berg.)," said Finch. "There is so much history, pride and tradition with USA Softball and I feel extremely blessed to be a part of it for the last 10 years. It has taken me places I have never dreamt of and given me relationships that go way beyond the softball field. I am thankful to my teammates, coaches, USA Softball, sponsors, my friends and family who have allowed me to not only create my dreams but to live them."
Along with her Olympic medals, the 6'1" pitcher is a three-time World Cup Champion, three time World Champion and a two-time Pan American Champion. She spent most of her time in the circle, but recently has emerged at the plate and defensively at first base. Her most recent Championship win in the circle was at the 2009 Japan Cup where she threw a one-hitter against 2008 Olympic Gold Medalist Japan as well as hit a two-run double to lead the USA to a 2-0 defeat over Japan. In 2009, Finch was also named the USA Softball Player of the Year.
"Jennie has meant so much to the sport and the growth of it. She has brought it to a whole new level of recognition as a worldwide sport. She has been instrumental in growing the sport both on the fielder as a pitcher, player and hitter but also as a person," said ASA Executive Director Ron Radigonda. "She is one who has never turned down an autograph or photo requests and truly appreciates her fans. She is as fan friendly as anyone out there. She has a respect for the young athletes who aspire to be her because she was that young girl at one time. I know she will continue to do what she can to help grow the sport and we at ASA appreciate all the time she spent with USA Softball. She will always be a great person in the sport of softball but more importantly a good person."
Finch came on the international scene in after a stellar career at the University of Arizona. She set the NCAA record for consecutive wins with 60 and was a two-time Honda Award winner for Nation's top softball player. Outside of softball she was named one of People's Most Beautiful people in 2004, was a member of The Celebrity Apprentice cast in 2008 and most recently she earned recognition for becoming the first female to hit a home run at the MLB Legends and Celebrities Softball Game.
"It's a sad day for the sport of softball," said the only four-time softball Olympian Laura Berg. "Softball is losing one of its greatest icons with the retirement of Finch. She has always been and always will be a great model for kids. She has been an amazing ambassador for the sport in the U.S. and globally. I'm honored to call her my teammate and friend."
At age 29, Finch has played on several USA Softball rosters, being a rookie at age 19 but now a decorated veteran. During this time, she has touched the lives of many former and current teammates who will forever remember the athlete and most importantly person she is.
"Being able to see the sport grow so much in the past 10 years is such an honor. It's incredible how much it has grown not only in the United States but also internationally. Hopefully I will continue to be involved with the development of the sport in some way just not in uniform. USA Softball will always be part of me and I plan to work in proving more opportunities in the future."